Fenofibrate dramatically reduces diabetic retinopathy progression
Diabetes is by far the number one cause of blindness here in Saipan.  Diabetes can damage any part of the eye, but the most common way it leads to blindness is through the complication of diabetic retinopathy.  In the US mainland the National Institutes of Health (NIH) estimates that 28% of people with diabetes have retinopathy.  The problem in Saipan is much worse, over the last five years in our practice we have consistently seen that between 70-72% of our patients with diabetes have retinopathy.
While treatments like laser photocoagulation and intravitreal injections such as avastin can prevent much of the most serious vision loss, they are only beneficial with more severe retinopathy.  Until recently there has been no available medication to prevent the worsening of retinopathy to the severe stages.  Recent evidence has shown overwhelmingly that fenofibrate effectively reduces the worsening of mild to moderate retinopathy.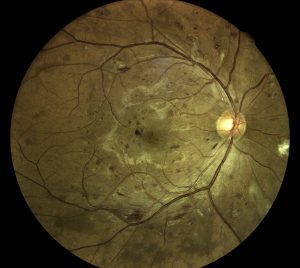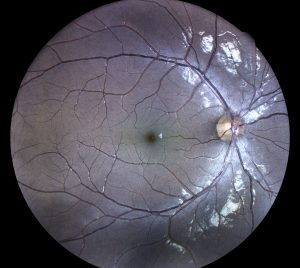 Fenofibrate first became available in the 1990's and has been used to treat elevated cholesterol and triglyceride levels.  Studies indicate that the beneficial effects seen for retinopathy are independent of any changes in the cholesterol levels.  The particular mechanism is not fully understood, but fenofibrate seems to protect against the breakdown of the blood-retinal barrier.  Numerous studies show that significant side effects are rare.
Evidence
The FIELD Trial
The first major study identifying a possible oral treatment for retinopathy was the Fenofibrate Intervention and Event Lowering in Diabetes   the FIELD trial in 2009.   9795 diabetes patients were randomized to fenofibrate or placebo for five years.   The results were dramatic, the fenofibrate group was 79% less likely to have worsening retinopathy, and 31% less likely to need retinal laser surgery.  Both findings were highly significant.
The ACCORD Lipid trial
The Action to Control Cardiovascular Risk in Diabetes, ACCORD Lipid trial which studied 5518 diabetes patients considered at high risk for cardiovascular disease, was released in 2010.  Patients were randomized to statin plus fenofibrate, or statin plus placebo.  Simvastatin was used, the majority were at the maximal usual dose of 40 mg.  Again, dramatic results were seen.  The fenofibrate group showed  36% less retinopathy progression, and was also 31% less likely to need laser surgery.
There are other results from these trials that have special interest in the CNMI.  In the FIELD trial, the fenofibrate group had a significant 36% reduction in foot amputation.  Both FIELD and ACCORD Lipid showed decreased risk of both micro and macroalbuminuria in the fenofibrate group.  Albuminuria is a test for protein in the urine.  Protein excretion in the urine is an early sign of kidney disease.  Decreasing this find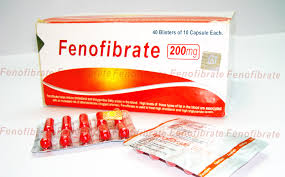 ing would likely decrease new cases of dialysis from diabetes.  There was also a non-significant trend towards less diabetic related dialysis in both trials for the fenofibrate group.
Following these studies there has been increasing talk of using fenofibrate to treat retinopathy.  In 2013 Australia approved fenofibrate for retinopathy treatment.  In December 2014 an editorial in the journal Ophthalmology discussed this in great detail, see also this discussion in the American Journal of Ophthalmology   This summer I attended the Scientific Sessions of the American Diabetes Association.  While there I listened as Emily Chew, the lead Ophthalmologist at the NIH presented as yet unpublished new findings showing the effectiveness of fenofibrate for retinopathy.
Potential concerns
Kidney function is monitored when prescribing, as studies indicate fenofibrate should be stopped if GFR (a marker of kidney disease) goes below 30.  We also monitor liver enzymes, as this has been an issue in rare cases.  Fenofibrate is contraindicated in those with gallbladder disease, and has not been tested in pregnancy, so should be avoided in women of childbearing years.  It is relatively inexpensive, with an average US retail price under $30.00 per month, and is covered by every insurance in the CNMI.    An older, related medication gemfibrozil did have some significant side effects.  When combined with Statin medications it lead to an increased risk of a serious muscle condition called rhabdomyolysis.  The vast majority of studies have not shown this to be a concern with fenofibrate.  However, one study did show a possible link.  In that study there were 12.37 cases of rhabdomyolysis per 100,000 patient years of treatment, in other words it was rare.  Even though most studies do not show this link, caution is still warranted.  Patients taking fenofibrate should report muscle pain to their physicians right away.
In our clinic we take potential side effects very seriously.  We take careful precautions to avoid them whenever possible.  Also whenever concerns arise, we check with the best experts on medications, a Pharmacist.   We are blessed in Saipan to have two very good pharmacies.  If you have any questions about diabetes or fenofibrate, please call me at 235-2030.  Further information is also available on our websight at hardteyeclinic.com   I have been corresponding with one of our pharmacists about Fenofibrate.  I will share some of this correspondence below.  It goes into greater scientific detail than I usually will write in my blog, but I include it for those who might be interested.
My Correspondence with one of our local Pharmacists.
Thank you so much for calling me the other day about fenofibrate, and the concerns it could lead to rhabdomyolysis when combined with statins, especially with higher statin dosage.  We have been studying the use of fenofibrate to treat diabetic retinopathy carefully for about five years.  I have attached to this email my "diabetes update" I sent this out to the CNMI's physicians early last year, which briefly discussed this issue.   As you know diabetic retinopathy is by far the leading cause of blindness here in the CNMI. 
Systemic drugs like fenofibrate, indicated primarily for cardiovascular disease and hyperlipidemia, have been considered the province of internal medicine practitioners.  For this reason we have moved very slowly and cautiously before prescribing fenofibrate ourselves.  We have had growing conviction, however, that many patients would benefit greatly from this therapy, so we have started prescribing.  Each time we do, we send detailed reports to the primary care physician or nurse practitioner.
Like you stated in our phone call, there have been concerns about possible adverse events, especially when combining with statins.  First regarding rhabdomyolysis.  I discussed above that there was no indication of this combination increasing the risk in the major trials listed above (FIELD & ACCORD Lipid) in diabetes patients.  A more general study was released in 2011.http://journals.sagepub.com/doi/pdf/10.1345/aph.1Q110  This study was a records review of over 1 million patient files who were on statin and/or fibrate therapy.  Of those 5,296 were taking a statin and a fibrate (either gemfibrozil or fenofibrate).  In this study the relative risk of rhabdomyolysis was higher with a fenofibrate/statin combination, than with a statin alone.  The IRR (incidence relative risk) for the fenofibrate/statin combination was 3.26.  The IR per 100,000 treatment years was 12.37.  The risks were much higher for gemfibrozil than fenofibrate.  There was no reporting in this study of the statin dosages used.  Another study in 2013 https://www.ncbi.nlm.nih.gov/pubmed/23324122?dopt=Abstract (this link is for the abstract, I do have a copy of the whole article if you would like to see it)  was a meta analysis of 13 studies looking at adverse events following statin-fenofibrate therapy versus statin alone.  There were no significant difference in rhabdomyolysis occurrence between the two groups.  They also specifically looked at the combination of fenofibrate with different dosages of statins.  There was no significant difference in rhabdomyolysis rates regardless of the dosage used.
The next study was a meta-analysis of 12 studies published in 2016, again looking for increased risks when statins are combined w/ fenofibrate. http://www.ijcem.com/files/ijcem0019029.pdf   There was no increased risk of rhabdomyolysis when comparing the two groups, this was true with both low and higher dosages of statins.
I read with interest the warnings on drugs.com  https://www.drugs.com/drug-interactions/simvastatin-with-tricor-2067-0-1071-611.html?professional=1  They recommend avoiding the combination of fenofibrate with statins, and further state NOT to use fenofibrate with the higher doses of statins.  There are 42 references listed, I carefully looked through each one.  I could find nothing in those references to support their cautions regarding dosages of statins.  In my careful literature review I could find no evidence of increased risks from higher doses of statins when combining with fenofibrate.  There is very extensive evidence of this with gemfibrozil.  If you find any evidence from the literature that contraindicates my findings, I would greatly appreciate it if you would share it with me.
While any indication of an increased risk of a condition as serious as rhabdomyolysis should be taken seriously, of course we must balance the risks with the potential rewards.  If we ignore the benefits for albuminuria & limb amputation, the benefits in retinopathy progression in our opinion far outweigh the potential risks.  We feel this is the case even if we only look at the one major study showing increased risk.  Even in this study there were about 12 events per 100,000 patient years.  We would have to balance this with the known prevention of worsening retinopathy in thousands of patients per case of rhabdomyolysis.  The evidence is mixed, and in our opinion, overall points away from an increased risk for rhabdomyolysis in our treatment population.  The studies specifically looking at diabetes patients showed no link.  The meta-analysis of all available RCT's from 2013 and 2016, found no link.  Again we could find no evidence from the literature of an increased risk of rhabdomyolysis and higher dosages of statin.  See this discussion of the safety of combining fenofibrate with statins.  https://www.ncbi.nlm.nih.gov/pubmed/26134595#
While you specifically mention rhabdomyolysis in your call, I would also like to address another concern that has been raised.  Citing the lack of evidence  of cardiovascular benefit in combining fenofibrate with statins, the FDA withdrew the approval of this combination for cardiovascular disease in April 2016.  http://www.medscape.com/viewarticle/862022   Again we are not prescribing fenofibrate for the cardiovascular benefit, but to treat diabetic retinopathy.  Studies indicate that the retinal benefits are unrelated to improved cholesterol or triglyceride parameters.  The FDA also cited a possible concern of increased cardiovascular events in women.  In the ACCORD Lipid trial there was a slight decrease in cardiovascular events in men, an increase in women.  Neither change was statistically significant on its own.  The difference between the sexes also was not noted in the FIELD trial.  
Based on all of the above, we feel that in diabetes patients with mild to moderate diabetic retinopathy without contraindications (GFR below 30, elevated liver enzymes, gallbladder disease, and women of childbearing years), that fenofibrate will benefit our patients.  This will be true whether or not they are also taking statin medication.  Of course we are anxious to hear any and all evidence that would lead in a different direction as we all try to serve our mutual patients.
Thank you again for your help, and your service to our community.